A Young Alumna's 10-Year Pledge to Establish the Space, Place & Southern Grace Fund for Feminist Studies
By Julie Wrinn
After nearly a decade of writing for the Internet, it's safe to say that blogging is a way of life for Sarah Caton (GWS and Spanish '16). What started in high school as a means of communicating in a new language—Spanish—eventually became a heavily trafficked lifestyle blog in English entitled "Space, Place & Southern Grace." The new name was inspired by Caton's Gender and Women's Studies (GWS) coursework. "The name is a consideration of the voices of place and how geography impacts who you are and the identities you have," she explained. "The southern aspect shows my ties and appreciation for Kentucky. I am from here and intend to live here my whole life."
As a freshman Caton found herself in Professor Karen Tice's course GWS: 250 about social movements, which became pivotal in her decision to major in GWS. "I realized very quickly that we were talking about real issues, right now. We could have something on the syllabus, and some major world event would happen, and the syllabus didn't matter anymore. For me, as someone who was already blogging, I realized these are the conversations we need to be having."
The Space, Place & Southern Grace blog really took off among Caton's peers in 2013 when the craft-oriented social media site Pinterest picked up her post on fraternity cooler painting. Not aware of this tradition? Neither was Caton, who didn't belong to a sorority herself at the time. But in preparing to attend her boyfriend's spring formal at his fraternity, she learned about the practice from friends and ended up creating a step-by-step tutorial complete with photos of her own efforts. Fun and practical, the post exemplified Caton's appeal, and from that point her blog steadily grew a larger readership. "While the post about coolers and similar ones about Greek life did launch my blog success," Caton said, "some of what I covered and wrote at that time was somewhat contradictory to my work as a budding feminist." Between her studies, interpersonal relationships, and overall professional growth, Caton began to understand barriers in society that reinforced marginalized identities, and her efforts to combat them took shape in her blog work.
By her senior year Caton was already feeling a desire to serve as a mentor and decided to write a book guiding women through the college experience from a feminist perspective. Entitled Lessons We Paid For, the book embraces feminism as a guiding philosophy for college success. As Caton writes, "By embracing feminism and choosing to consider a feminist perspective on various issues, I made decisions in college that best supported my well-being, respected those around me, and allowed me to develop a unique voice and platform from which I can share my experiences. Feminism doesn't consume your life. Rather, feminist is an identity that shapes me to be a better version of myself, allows me to tackle injustices, and to make decisions on a micro level that can ultimately impact the macro."
After graduation, Caton was able to leverage her longtime facility with computers into a full-time position as a Computer Support Specialist in the UK College of Agriculture, Food, and Environment. In addition to providing desktop computer system support, Caton utilizes her expertise in strategic communications is areas of web development, graphic design, and social media/strategic digital marketing for the Department of Community and Leadership Development and The Food Connection.
At the same time, Caton began offering local workshops geared towards women small business owners. "The classes centered around topics of core business functioning and logistics," she explained, "but also blended into questions of how do you have confidence to do certain things. How do I elevate myself despite these identities that might be traditionally marginalized? The conversations in the workshops got pretty personal very quickly and stopped being about how do I start my business checking account and went into how do I reach the people that I'm like." The demand for these courses was so great that Caton decided she needed to write another book, This Little Thing I Do Sometimes, forthcoming in fall 2019.
Now Caton's blog advertises a wide range of services, from business and lifestyle photography, to comprehensive brand review, digital strategy implementation, personalized business coaching, community and corporate workshops, and influencer marketing and product review. She credits her GWS coursework with helping her to find her voice. "I'm storytelling from an auto-ethnographic perspective. I want to be analytical but also interject my voice and my story in everything I share, anything from a product review to an experience I'm detailing or a vacation I'm sharing."

Some of the expertise she shares in these workshops come from her own hands-on experience, but much also comes from her GWS courses. "My degree programs were all about communicating effectively with people. My academic studies were valuable to me because they helped me appreciate people for who they are, where they are, and to understand different identities that are unlike my own."  For her GWS thesis, Caton studied blogger relationships on the Internet and how they're perceived, concluding that a feminist identity can significantly impact audience and readership.
With two thriving careers, Caton, has already turned her thoughts to giving back. "My intent with entrepreneurship is to live a comfortable, financially stable life, but what good is excess money if you can't help other people and see the benefits of what you've worked for put into practice?" Caton decided to support students pursuing a GWS major, because her coursework in that department raised her own awareness of how meaningful feminism still is today. "We live in a somewhat conflicted society, about how we identify, how we talk about one another to one another. And I think a GWS education is essential to people speaking and forging meaningful relationships person to person."
The Space, Grace & Southern Grace Fund for Feminist Studies will provide $1,000 to a rising junior majoring in GWS beginning in the 2019-20 academic year, and it will be awarded to a different recipient every year for the next decade. That long-term commitment was important to Caton: "There is a lot of good in one-time gifts, but that sustainability of setting up a program and seeing it through, and offering the mentorship component in addition to the financial means, is really a holistic approach to scholarship awards."
Caton feels especially strongly about the importance of mentors in young people's lives. "We have mentors tucked into every corner of our life, whether we realize it or not, whether the mentors know they're our mentors or not. I think it's important for every person to have informal and formal mentorship relationships established. Through this scholarship I hope to offer students that opportunity to work with me, whether it's about their studies or about their career trajectory."
Herself a beneficiary of financial support and extra advising through the highly competitive merit scholarship program at UK known as the Singletary Scholars, Caton wants to extend those same opportunities to GWS majors. "I had that built-in level of support that a lot of students don't come in with. GWS houses students who don't feel like they fit in in a lot of other majors, and I found myself there. Because of that, I feel like GWS majors deserve a little bit more attention."
---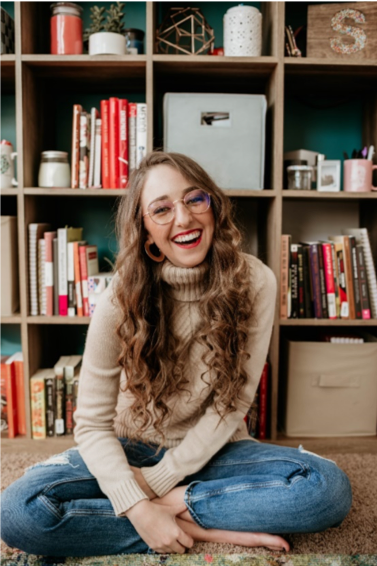 About Sarah Caton: Sarah is an event planner turned blogger, photographer, and brand strategist who loves celebrating the work of women. She is a fervent feminist who is passionate about professionalism. Sarah teaches community classes about self-care, social media, and personal development to build stronger identity and workplace confidence for millennials. She believes in owning your creative power, flexing your interpersonal assets, and actively working towards your goals. She is the author of the business communication book, This Little Thing I Do Sometimes, as well as the feminist collegiate guidebook, Lessons We Paid For.
Sarah is an internationally published photographer and has appeared as a guest on several podcasts to speak about business best practices and digital marketing. Sarah's work has been featured in Southern Living, the international travel guide Porter & Sail, among other print and digital publications. Influencer marketing and photography partnerships have included major retailers such as HBO, NBC Sports, Xbox, America's Best Racing, Kroger, Kate Spade, Aerie, and Panera, among other household names.
Her site, spaceplaceandsoutherngrace.com, addresses life, laidback style, travel, and feminism for young entrepreneurs and Kentucky enthusiasts. There, you can explore Sarah's current projects, services, portfolio, and client list. Space, Place & Southern Grace has received numerous awards, including National Runner Up for Most Inspiring Lifestyle Blog by the InfluenceHer Collective agency.
Sarah has led professional development workshops at the University of Kentucky, University of Tennessee, Morehead State University, and for online audiences about developing your brand and a building a career in digital media. As a product of her entrepreneurial success, Sarah launched the Space, Place & Southern Grace Fund for Feminist Studies at the University of Kentucky to support degree pursuit in Gender Studies.
At home, Sarah is an impassioned, yet easy-going southerner who loves to spend time at the beach, with her dog, and entrenched in the throes of true crime documentaries. She has spent significant time in Latin America and is fluent in Spanish. Sarah currently resides in Winchester, Kentucky.
You can connect with Sarah Caton online via her blog Space, Place & Southern Grace, and follow her on Facebook and Instagram at @spaceplaceandgrace.