Gender Studies and Anthropology Professor to Head Feminist Anthropology Board
By Madison Dyment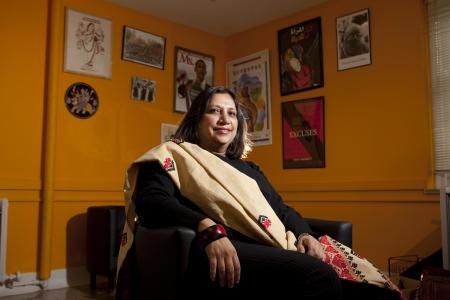 The University of Kentucky prides itself on housing a diverse faculty whose work is rewarded with numerous achievements. Srimati Basu, an Associate Professor in Gender Studies and Anthropology, has added to this exalted tradition, having recently been named the president-elect for the Association for Feminist Anthropology (AFA).
Despite conducting most of her work in the anthropology and gender studies field, Basu comes from an English literature background. She received her undergraduate degree from Calcutta, her master's degree from Purdue and her Ph.D. from Ohio State.
"My major in college was English, my minor in history and philosophy and my master's is in English," Basu said. "It was in the middle of my master's when I thought I wanted to do more interdisciplinary work and have a social justice orientation, so I switched and did my Ph.D. on cultural studies, anthropology and gender studies."
Basu draws influence from all of her previous interests for her current work.
"I come from all these different backgrounds and you can kind of see that in my work where occasionally I will sort of do some work on media or literary texts," Basu said.
Her work has ranged from marriage and kinship, divorce cases, gender-based violence, with a large focus on law.
"For me, it's how cultures shape law," Basu said. "But sometimes, law also changes what culture is; the law will impact or change behaviour. How does this affect the meanings of kinship or violence in a culture?"
Basu originally taught at DePauw University in Indiana and came to UK 12 years ago. She has a joint appointment in the Gender and Women's Studies and Anthropology Departments, although she has done most of  her teaching in the Gender and Women's Studies Department along with courses in social theory and joint listed courses in anthropology.
"UK was trying to build a new department and Ph.D. program in GWS when I was hired," said Basu. "We started out with three full new lines, but since then we've really grown."
Through her interest in anthropology, Basu became involved with the American Anthropological Association (AAA). The AAA is divided into thematic interest groups, with Basu belonging to the Association for Feminist Anthropology and the Association for Political and Legal Anthropology.
Basu had previously served on the board for AFA but decided this was the best year to run for the presidential position.
"We are in a very interesting moment in both the study of gender and anthropology," Basu said. "What I want to see us pursuing in feminist anthropology is projects in the context of social movements like 'Me Too' and 'Black Lives Matter' and the decolonization of anthropology. It's a perfect time to be doing this."
Basu hopes to have the AFA work on projects with other associations, like the Association for Queer Anthropology and the Association for Black Anthropologists.
Basu will serve for two years as trainee to the current president, Jennifer Wies, who received her Ph.D. from UK. After the two years, she will take over as president.