Gender and Women's Studies Professor Finds Online Class About Health and Diversity Takes on Startling Relevance
By Richard LeComte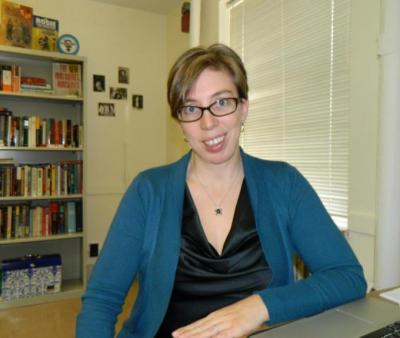 Melissa Stein's online Health, History, & Human Diversity class this spring took on an unwanted yet vital relevance with the COVID-19 pandemic. Suddenly, many aspects of past pandemics and other health issues the class studied had become alarmingly current.
"A lot of the material in the class turned out to be eerily on point," said Stein, associate professor in the Department of Gender and Women's Studies in the College of Arts & Sciences. "The unit that my students were going to take up after spring break is called 'Global Health Challenges,' so I modified the assignment to take into account the things we were all thinking about. There was no way people were going to go through that assignment without thinking about what's happening right now."
Stein designed the class this semester to embrace a wide range of students inside and outside the College, and her design is paying off in influencing current and soon-to-be medical professionals.
"My background is as an historian, so this class deals with the history of health, medical ethics and human diversity," Stein said. "I designed it as an online class from the get-go because I wanted to reach students in nursing, premed and public health. Gender Studies has a lot to offer those fields."
One of the major themes of the class involves looking at health disparities – particularly the difference between how society treats the rich and the poor, even as knowledge about germs and the spread of disease increased.
"One of the books we read at the start of the semester was 'The Gospel of Germs' by Nancy Tomes, about the rise of germ theory," she said. "Early public health campaigns, such as those around tuberculosis and Spanish flu, were geared toward poor people – they were geared toward poor people, not out of any sense of altruism, but out of the sense that the 'unwashed masses' were going to make middle-class people sick."
Another area she explores is how the burden to disinfect the house – and keep the family safe -- falls on women. That facet may not appear too prominent in the COVID-19 pandemic, but the idea may lurk in the background. For example, the actress Kristin Chenoweth posted an Instagram video of her wiping down surfaces in her kitchen to serve as an example to her fans.
"One of the things I found interesting in terms of gender, health, illness and communicable disease is that a lot of added burden and blame is placed on women for keeping their families safe and keeping germs at bay," she said. "People associate women with domestic labor and responsibilities."
Her students – drawn from many areas of the university – are reacting to the current situation as well. One of the big take-aways from the class, Stein said, was how her students saw the need for the United States to work with other nations to coordinate anti-pandemic efforts. Her students recently commented in a class unit about multinational efforts to improve health.
"International travel for business and tourism have helped to spread this disease and make it a worldwide problem," wrote Chris Coy, a Bachelor of Liberal Studies student. "To see health crises that come to light in other countries as 'their' problem, like calling COVID-19 'the Chinese virus' is short-sighted and nationalistic, especially as COVID-19 is without a doubt the world's virus at this point."
"I think that the COVID-19 pandemic is a perfect example of why countries, including the United States, should help other countries with their health disparities," wrote Lindsay Bryant, a Bachelor of Public Health student. "Currently, there is a worldwide shortage of PPE (personal protective equipment) that can be solved by all countries working together and supplying each other with PPE. Though before I believed in nations banding together and healing each other, I believe so even more during the current COVID-19 pandemic. "
Stein notes that for most of her students, their points of reference are with such recent pandemics as SARS and bird flu. People tend to see these diseases as coming from "foreign lands," but her students have learned to see them in a global perspective – demonstrating the value of a class that looks at disease from a gender and class perspective. 
"Some of them pointed out that in popular perception disease and contagion always start 'out there' and carry an association with foreignness," she said. "The students are definitely drawing parallels with earlier pandemics, in which there were strong nativist and racist assumptions that we're seeing again today."