A&S Professor Receives Global Impact Award From International Center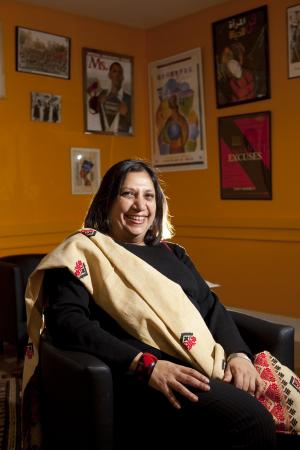 LEXINGTON, Ky. (May 26, 2020) — The International Center at the University of Kentucky has announced its first cohort of UK Global Impact Award winners. Among them is Srimati Basu, professor in the Department of Gender and Women's Studies, College of Arts & Sciences
Recipients comprise faculty, staff and alumni who have significantly contributed to the university's global engagement through education, research and service, as well as fostered a culturally diverse, welcoming environment that is conducive to comprehensive campus internationalization.
"Global engagement activities by faculty and staff are often seen as something extra," said Sue Roberts, associate provost for internationalization. "But they are really crucial in fostering a diverse, vibrant community of globally informed scholars and globally competent and globally competitive students."
Basu received the UK Global Impact Award for Distinguished Faculty Achievement in International Research and Scholarship. This award recognizes Basu for her research tracking the legacies of feminist reforms in India. Her  monograph "She Comes to Take Her Rights: Indian Women, Property and Propriety," published 25 years ago, continues to be a critical academic resource. 
"Over the past two decades, Basu has conducted research in multiple sites in India, provided expert testimony to the U.N. and collaborated with several NGOs," said Ellen Riggle, chair of Gender and Women's Studies. "Additionally, she has been successful in receiving grants from the American Institute for Indian Studies, Fulbright-Nehru and the Rockefeller Foundation."
Basu's research focuses on feminist jurisprudence, alternative dispute resolution, marriage, gender-based violence and the intersections of civil and criminal law. Her scholarly work advocates for law and policy transformations.