By Richard LeComte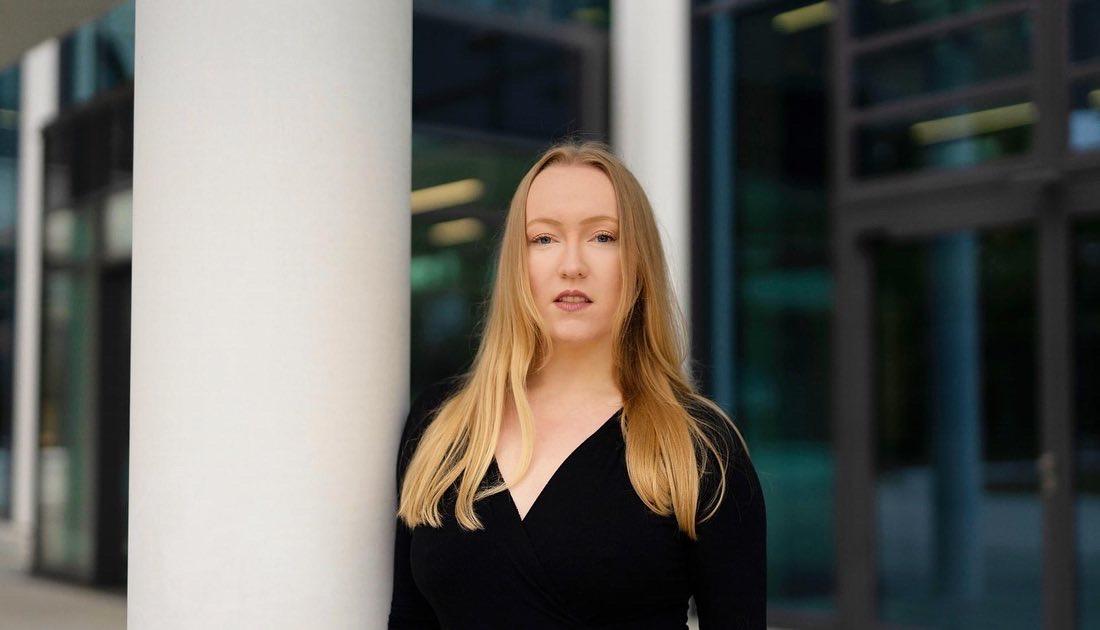 LEXINGTON, Ky. -- In March 2020, Sarah McCurrach was asleep in Heidelberg, Germany, as messages crammed into her cell phone. When she awoke, she found out that a virus rampaging across the world was about to interrupt her education-abroad studies through the University of Kentucky.
"It was the 11th of March, and I looked at my phone and it  was off for some reason," said McCurrach, a UK College of Arts & Science student who's graduating in August because the Heidelberg second semester runs from April to July rather than through May. "I turned it back on, and my phone exploded with messages from the UK Education Abroad & Exchanges office on my Instagram and my Twitter. They were like, 'Where are you?' 'Get on an airplane! Do you know what is happening in the world?
"So I naturally panicked a little bit, and I called my mom, and I was like, 'What is going on?' And she said, 'Trump is closing the border. You need to get on a plane.' And I was like, 'I don't think I'm going to do that,' and my mom was like, 'No Sarah, get on a plane.' So I said no, and I hung up the phone. I'm not normally that disrespectful towards my mother; we have a very close relationship. But I wasn't getting on an airplane."
Nevertheless, McCurrach, who has a great deal of experience living in Europe, ended up heeding advice and going home, after a lot of back and forth and even after offering to stay with friends in Berlin. She dreaded possibly being exposed to the virus on commercial airlines, but the need for safety won out.
"I was secretly kind of hoping that my flight would be canceled, so I would have to stay and that I wouldn't have a choice, but that didn't happen, and I finally relented and agreed to come back. But I fought tooth and nail to not have that happen."
McCurrach, who started out at UK as a vocal studies major, will be graduating from the Department of Gender and Women's Studies. She calls Ann Arbor, Michigan, her home, but at an early age she lived in Rome with her mother, an art historian, while her father worked in Belgium. She also spent time as a study-abroad student in Rome and in Austria while enrolled at UK.
She was determined to resume her studies at Heidelberg  University, especially as waves of COVID-19 infections ebbed. After a two-month stay in Great Falls, Virginia, with her family, she was able to return to Europe before her student visa expired. She worked as an au pair and has finally gotten back to finishing her degree.
"I took a year off essentially because once COVID hit and Trump closed the borders, everyone who was studying abroad had to flee home," she said. "But through working with UK Education Abroad & Exchanges and Heidelberg University we came to an agreement that I could come back spring of 2021. I'm starting my second half of my one year abroad."
One of the great ways international study can enrich UK students is through contact with professors of varying experiences. McCurrach said she worked with the Department of Gender and Race Studies to determine, from the syllabi, whether the Heidelberg classes could count for her major. For example, in an English-language program in Heidelberg, McCurrach took a class from Scottish and German professors that touched on gender issues.
"Probably my favorite class that I took last year was a class called 'The American Dream: Where are We Now,'" she said. "It was really fascinating because it was from the German and Scottish perspective, because they had a visiting scholar from Scotland. It was very interesting to sit in a classroom of mostly Germans and hear about the perspective of my country. It was incredibly insightful. 
"I would say my Scottish professor was probably more on the liberal side, and one of my German professors was more on the conservative side, which made a very interesting dynamic. They brought so many different ideas into these really complex issues.
"We could structure the course based on the students' interest, so we could look at gender structures and how they differ between Europe and America. It was incredibly eye opening. I really, really loved that class, and I'm still actually in contact with both professors. It was a very close-knit group."
She also found time to pursue her ultimate career goal: the theater.
"Heidelberg actually has the oldest English speaking theater troupe in all of Germany," she said. "I got very lucky. I managed to get in on an audition and I've been lucky enough to be part of a few of their productions. They like to do a lot of classic theater. I was originally cast as Catherine in Tennessee Williams' 'Suddenly Last Summer,' and I was really excited to do that. But then right halfway through rehearsing is when COVID struck."
After graduation, McCurrach plans enroll in the M.A. program in classical acting at the London Academy of Music Dramatic Art, where she will continue her European adventure.