By Clark Bellar
(April 20, 2015) — Slavina Goleva, an undergraduate biology student at the University of Kentucky, recently received the highly competitive David S. Bruce Award for Undergraduate Research Excellence from the American Physiological Society (APS) at the 2015 Experimental Biology International Meeting held in Boston, Massachusetts.
Ninety abstracts were submitted to the APS by undergraduate students from across the globe. From those, 30 were selected for the David S. Bruce Outstanding Undergraduate Abstract Award that Goleva received. Those 30 winners went on to be interviewed at the Experimental Biology conference in Boston, where Goleva was selected as the winner of the Undergraduate Research Excellence award. 
"Winning the award was an incredible experience," Goleva said.
The selection process involved presenting a poster based on her abstract to two sets of seven judges, along with a period of questions from the judges.
"This was probably my favorite part of the experience because I had the opportunity to show off my hard work and understanding of the project," she said.
Goleva worked under Jeffrey Osborn, professor in the Department of Biology at UK, as well as graduate student Megan Rhoads. Working with them "…really helped me gain a deeper understanding of the science, and I don't think I could have excelled as much without such great mentors," Goleva said.
The Experimental Biology meeting "…is a very large international conference composed primarily of scientists from the disciplines of physiology, biochemistry and molecular biology, immunology, pathology, pharmacology and nutritional sciences," Osborn said.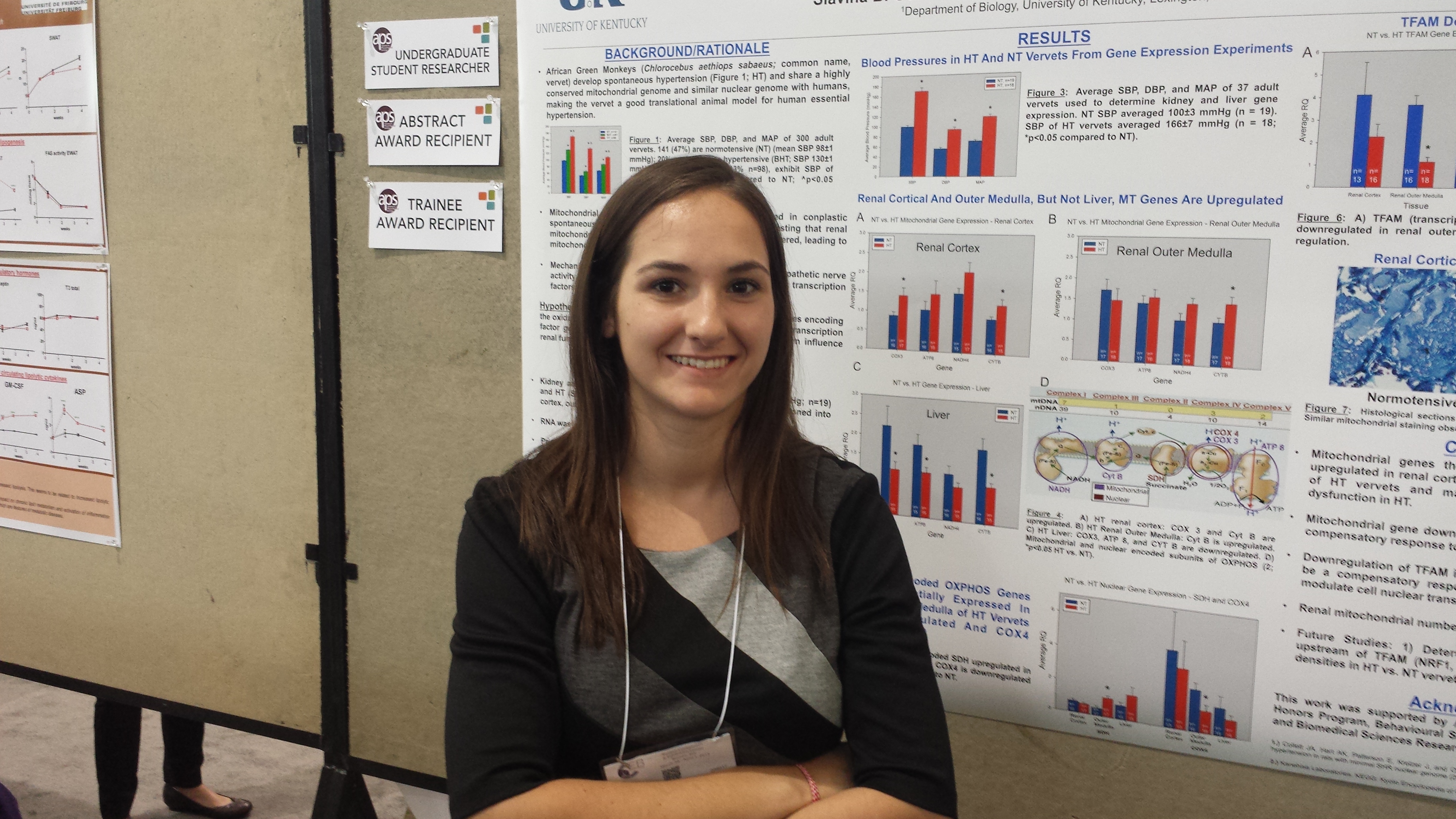 Goleva's research focused on the underlying causes of essential hypertension, or the development of high blood pressure with no known cause, within the kidneys.
Focusing on the role that kidneys play in essential hypertension, Goleva's research suggests that mitochondrial dysfunction within the kidneys is linked to long-term blood pressure control.
"This has made me so much more confident in myself as both a scientist and a person, which is arguably the most valuable thing I've gained from this experience," she said.
The Bruce Awards were created in 2004 in memory of David S. Bruce from Wheaton College and honor his commitment to promoting undergraduate involvement in research, in the APS annual meeting, and, ultimately, in research careers.