Faculty Bookshelf
Faculty Bookshelf
The Woman in the Violence draws on fieldwork conducted in Lima, Peru, one of the largest cities in Latin America, and the life stories of dozens of  women to examine multiple forms of violence and how it interrelates in their lives. Gender-based violence continues to blight the landscape of South American urban centers, and this book unravels the personal experiences of those impacted. Alcalde explores the everyday lives of these women before, during, and after an abusive relationship to explore the impact of, and response to, structural, institutional, and interpersonal violence.
Srimati Basu
The Trouble with Marriage:  Feminists Confront Law and Violence in India

The Trouble with Marriage is part of a new global feminist jurisprudence around marriage and violence that looks to law as strategy rather than solution. In this ethnography of family courts and other crime and mediation settings in India, Srimati Basu reevaluates Indian feminist theories of marriage, gender violence, and the role of the state. Basu argues that alternative dispute resolutions, originally designed to empower women in a less adversarial legal environment, have created new subjectivities but have also reinforced oppressive socioeconomic norms that leave women no better off, individually or collectively. This volume examines the extent to which feminist visions of divorce, rape, and domestic violence law in India empower women and finds, paradoxically, that these alternative ideas actually reinforce women's economic and social inequality.
 
Srimati Basu
Conjugality Ubound:  Sexual Economies, State Regulation, and the Marital Form in India, co-edited with Lucinda Ramberg. 

In conversation with materialist feminist theory, queer theory, and postcolonial theory, this book considers the nature of sexual economies and the ways in which the discourses of marriage and conjugality operate within them. The essays launch an interdisciplinary conversation across the historical and ethnographic record in India, analysing marriage as reflected in the deployment of legal, psychiatric, and reproductive governance, in contested boundaries of religion and kinship, in marriage to gods and queer subjects and across castes. These conversations help us think about marriage, its regulation, and its reinventions as windows onto social life and human thriving, as well as social death and individual abjection.
Srimati Basu 
Using the contemporary workings of property law in India through the lives and thoughts of middle-class and poor women, this is a study of the ways in which cultural practices, and particularly notions of gender ideology, guide the workings of law. This book shows that it is not ignorance of the law, naiveté about wealth or unthinking adherence to gender prescriptions that guides women's decisions, but rather an intricate negotiation of kinship and an optimization of socioeconomic and emotional needs.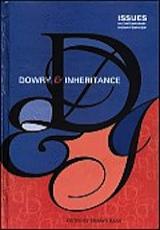 Srimati Basu
Despite preventive litigation, dowry remains a widespread "social evil"--a marker of social status--more common, disturbingly, among the educated urban middle classes than among the urban poor or rural population in India.  While caste restrictions on the choice of marriage partners seem to have eased, socio-economic factors have gained in significance. Dowry is also making inroads into communities that did not follow the practice traditionally.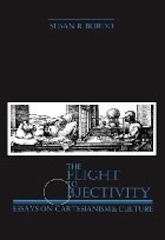 Susan Bordo
The Flight to Objectivity offers a new reading of Descartes' Meditations informed by cultural history, psychoanalytic and cognitive psychology, and feminist thought. It focuses not on Descartes' arguments as "timeless," culturally disembodied events, but on the psychological drama and imagery of the Meditations explored in the context of the historical instability of the seventeenth century and deep historical changes in the structure of human experience.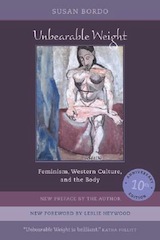 Susan Bordo
Unbearable Weight is brilliant. From an immensely knowledgeable feminist perspective, in engaging, jargonless (!) prose, Bordo analyzes a whole range of issues connected to the body—weight and weight loss, exercise, media images, movies, advertising, anorexia and bulimia, and much more—in a way that makes sense of our current social landscape—finally! This is a great book for anyone who wonders why women's magazines are always describing delicious food as 'sinful' and why there is a cake called Death by Chocolate. Loved it!"—Katha Pollitt.
New York Times Notable Book of the Year, 1993; Association for Women in Psychology Distinguished Publication Award.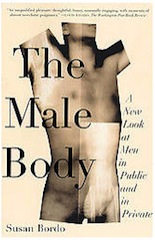 Susan Bordo
 Men's (and women's) ideas about men's bodies are heavily influenced by society's expectations, and Bordo helps us understand where those ideas come from. In chapters on the penis (in all its incarnations), fifties Hollywood, male beauty standards, and sexual harassment, and in discussions of topics ranging from Marlon Brando and Boogie Nights to Philip Roth and Lady Chatterley's Lover, Bordo offers fresh and unexpected insights. Always--whether she is examining Michael Jordan or Humbert Humbert, the butch phallus or her own grade-school experiences--she rejects rigid categories in favor of an honest, nuanced version of men as flesh-and-blood human beings.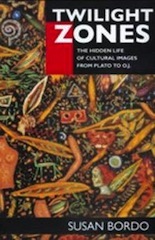 Susan Bordo
Considering everything from Nike ads, emaciated models, and surgically altered breasts to the culture wars and the O.J. Simpson trial, Susan Bordo deciphers the hidden life of cultural images and the impact they have on our lives.  As it becomes increasingly difficult to distinguish between appearance and reality, she argues, we need to rehabilitate the notion that not all versions of reality are equally trustworthy.
Susan Bordo
Susan Bordo follows the cultural career of Anne Boleyn from the 16th century to today, looking at the ways in which Anne has been "created" and recreated in history, biography, novels, film, and television, and challenging many of the myths and stereotypes that have followed Anne through the centuries.  She also provides some new, provocative answers to the unsolved mysteries of Anne's life. What did she really look like? What was it that caused such strong feelings in those around her? Did she love Henry? Did Henry love her? And if he loved her, how could he have ordered her death?  What brought about her fall? And most of all, why does she continue to fascinate every new generation?
Susan Bordo
The Destruction of Hillary Clinton
The Destruction of Hillary Clinton is an answer to the question many have been asking: How did an extraordinarily well-qualified, experienced, and admired candidate—whose victory would have been as historic as Barack Obama's—come to be seen as a tool of the establishment, a chronic liar, and a talentless politician?

In this masterful narrative of the 2016 campaign year and the events that led up to it, Susan Bordo unpacks the Rights' assault on Clinton and her reputation, the way the left provoked suspicion and indifference among the youth vote, the inescapable presence of James Comey, questions about Russian influence, and the media's malpractice in covering the candidate.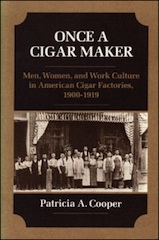 Patricia Cooper
Cooper charts the course of competition, conflict, and camaraderie among American cigar makers during the two decades that preceded mechanization of their work. In the process, she reconstructs the work culture, traditions, and daily lives of the male cigar makers who were members of the Cigar Makers' International Union of America (CMIU) and of the nonunion women who made cigars under a division of labor called the "team system." But Cooper not only examines the work lives of these men and women, she also analyzes their relationship to each other and to their employers during these critical years of the industry's transition from hand craft to mass production. 
Carol Mason
Oklahomo:  Lessons in Unqueering America

By exploring the scandal-filled lives of four Oklahomans, this book demonstrates how unqueering operates in a conservative American context. Carol Mason weaves a story about how homogenizing, antigay ideas evolve from generation to generation so that they achieve particular economic, imperial, racial, and gendered goals. Using engaging and accessible commentary on antigay crusaders (Sally Kern and Anita Bryant) and two queer teachers dismissed from their positions (Billy James Hargis and Bruce Goff), Mason illustrates how the lives of these figures represent paradigmatic moments in conservative confrontations with queers and help us to understand the conflation of terrorism with homosexuality, which dates back to the McCarthy era.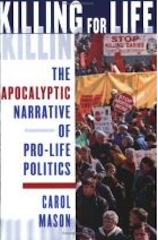 Carol Mason
How can those who seek to protect the "right to life" defend assassination in the name of saving lives? Carol Mason investigates this seeming paradox by examining pro-life literature-both archival material and writings from the front lines of the conflict. Her analysis reveals the apocalyptic thread that is the ideological link between established anti-abortion organizations and the more shadowy pro-life terrorists who subject clinic workers to anthrax scares, bombs, and bullets.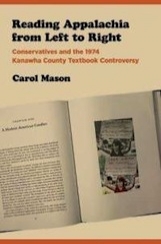 Carol Mason
In Reading Appalachia from Left to Right, Carol Mason examines the legacies of a pivotal 1974 curriculum dispute in West Virginia that heralded the rightward shift in American culture and politics. At a time when black nationalists and white conservatives were both maligned as extremists for opposing education reform, the wife of a fundamentalist preacher who objected to new language-arts textbooks featuring multiracial literature sparked the yearlong conflict. It was the most violent textbook battle in America, inspiring mass marches, rallies by white supremacists, boycotts by parents, and strikes by coal miners. Schools were closed several times due to arson and dynamite while national and international news teams descended on Charleston. 
Ellen Riggle
Happy Together:  Thriving as a Same-Sex Couple in your Family, Workplace, and Community
 As more states strike down laws restricting marriage to one man and one woman, same-sex relationships are becoming more visible and more socially accepted. Nevertheless, many couples still experience significant stress because of their same-sex status. In every life context family, work, neighborhood, religious communities, and in social and legal contexts same-sex couples have to make decisions about disclosure, how to respond to prejudice, and how to cope with negative feelings about themselves and their experiences. This book helps couples work together to identify, develop, and use their strengths and skills to successfully navigate these issues and flourish. Tough tasks like confronting prejudice will never be easy, but thanks to the stories, tools, and resources presented in this book, readers will learn to manage such situations in a positive way.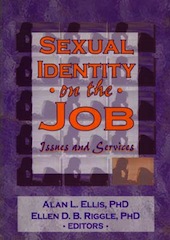 Ellen Riggle
Sexual Identity on the Job provides academics and practitioners with a solid resource for addressing sexual identity concerns and issues in the workplace. It offers corporate trainers, managers, and policymakers suggestions for creating a positive psychological environment of inclusion for all workers through policies of nondiscrimination, the availability of domestic partner benefits, and solid efforts to eliminate on-the-job discrimination toward lesbians, gays, bisexuals, and transgender individuals. It educates social service providers about company actions of which they need to know in order to effectively support their gay, lesbian, bisexual, and transgendered clients.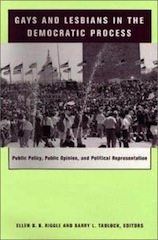 Ellen Riggle
From "Don't ask, don't tell" to the Defense of Marriage Act, from the Employment Non-Discrimination Act to the continued battle against AIDS, gays and lesbians have been in the spotlight during the Clinton administration. They now form a political interest group as well as a social community, and political scientists, legal scholars, and the media have started speculating on the impact of this newfound prominence.  The articles in this volume extend and expand on a growing body of research on the movement for lesbian, gay, bisexual, and transgendered equality in the political world, with a focus on the areas of public policy, public opinion, and political representation.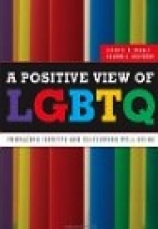 Ellen Riggle 
Focusing on how LGTBQ-identified individuals can cultivate a sense of well-being and a personal identity that allows them to flourish in all areas of life, the authors explore a variety of themes. Through personal stories from people with a variety of backgrounds and gender and sexual identities, readers will learn more about expressing gender and sexuality; creating strong and intimate relationships; exploring unique perspectives on empathy, compassion, and social justice; belonging to communities and acting as role models and mentors; and, enjoying the benefits of living an authentic life.  2012 Distinguished Book Award from Division 44 of the American Psychological Association.
Melissa Stein

 Measuring Manhood:  Race and the Science of Masculinity, 1830-1934 
 
From the "gay gene" to the "female brain" and African American students' insufficient "hereditary background" for higher education, arguments about a biological basis for human difference have reemerged in the twenty-first century. Measuring Manhood shows where they got their start.  Stein analyzes how race became the purview of science in nineteenth- and early twentieth-century America and how it was constructed as a biological phenomenon with far-reaching social, cultural, and political resonances.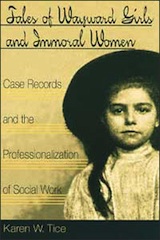 Karen Tice
Writing case records was central to the professionalization of social work, a task that by its very nature "created clients, authorities, problems, and solutions". In Tales of Wayward Girls and Immoral Women, Karen W. Tice argues that when early social workers wrote about their clients they transformed individual biographies into professional representations. Because the social workers were attuned to the intricacies of language, case records became focal points for debates on science, art, representation, objectivity, realism, and gender in public charity and reform.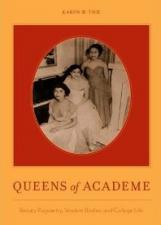 Karen Tice
In Queens of Academe, Tice asks how, and why, does higher education remain in the beauty and body business and with what effects on student bodies and identities. Drawing on archival research and interviews as well as hundreds of hours observing college pageants on predominantly black and white campuses, Tice argues that pageants help to illuminate the shifting iterations of class, race, religion, culture, sexuality, and gender braided into campus rituals and student life. 
Included in the list of books for the 2012 Critics Choice Book Award of the American Educational Studies Association.
Eds. Cristina Alcalde, Susan Bordo, and Ellen Rosenman
Provocations:  A Transnational Reader in the History of Feminist Thought

The first collection of its kind, this reader is historically organized and transnational in scope, highlighting key ideas, transformative moments, and feminist conversations across national and cultural borders. Emphasizing feminist cross-talk, transnational collaborations and influences, and cultural differences in context, this anthology heralds a new approach to studying feminist history.  Provocations includes engaging, historically significant primary sources by writers of many nationalities in numerous genres—from political manifestos to theoretical and cultural analysis to poetry and fiction. These texts range from those of classical antiquity to others composed during the Arab Spring and represent Asia, the Middle East, Latin America, Western Europe, and the United States.