Message from the Chair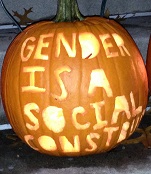 Happy October from GWS!  In Lexington, October means Keeneland and the Thriller Parade, our town's tribute to Michael Jackson's spooky music video masterpiece from the 1980s. Here's a pic of GWS zombies preparing to haunt Main Street downtown a few years ago. (Hurry up and return from sabbatical, Karen Tice, so we can all dress up and dance again!)
Here on campus, October means midterms and media analyses of campaign rhetoric. Our own Otis A. Singletary Chair, Susan Bordo, has been busy writing across generations to explore the power of women's vote in this historic election cycle. If you haven't caught her opinion pieces in the Huffington Post or CNN online, you can read our endowed chair's analyses on Susan's new blog, Bordocrossings.com
This fall our department gained a second endowed chair. Cristina Alcalde has been named the inaugural Marie Rich Professor, an honor bestowed by alumni Robert Rich, who wanted to celebrate the legacy of his grandmother. Here's a shot of Cristina Alcalde, Robert Rich, and our dean, Mark Kornbluh, after the College of Arts and Sciences Hall of Fame ceremony. What a stunning tribute from Mr. Rich and what a terrific inaugural honoree, Dr. Alcalde! If you want to honor someone you love with a gift benefitting women's scholarship and GWS, please let us know.
The most colorful prize of the season so far, however, is the one awarded to our beloved department manager, Michelle Del Toro, for her dedication and ingenuity on the job. She received the A&S culture committee's "Awesomesaurus Rex" staff award for October.  Michelle works her magic every day of the week to keep our place running smoothly, and she is a huge asset to the college as well. This fall, Michelle got a new puppy, too; can you tell which is the pet and which is the prize?
Lucky students in Srimati Basu's class this fall have had the opportunity to learn from visiting scholars as part of the speaker series for the College of Arts and Science's Year of South Asia.  Dr. Radhika Parameswaran spoke earlier this month in the mammoth auditorium of the new Academic Science Building, an awesome new facility that allows for large interactive lectures and more intimate break-out sessions.  Here is our guest pointing out particular features of advertisements for skin lightening "beauty" products.  "Jamming Beauty's Color Line: Parodies and Spoofs of Indian Advertising" was a fantastic presentation. 
Last but not least, I want to shout out a big "welcome" to two PhD students who joined us this fall, Mikaela Feroli and Cameron Tyrrell.  We are delighted to have them!
As the leaves turn color against the brilliant Kentucky sky, the university motto of "see blue" is hard to resist in October. We in GWS wish you all spectacular autumnal vistas as you study, research, and write your way through the season.    
Carol Mason, 
Department Chair